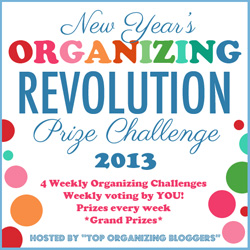 I have been following this Organizing challenge for the past three weeks and wanting oh so bad to join, but have procrastinated. But not this week! Oh no, when I saw that it was about organizing closets I jumped in! There is a closet in the hallway that leads from my living room to the master bedroom and the stairs that go up. My stairs stop half way up and turn, then go the rest of the way up. The closet in the hallway is under the stairs and with the stairs being the way they are, it makes the closet be an "L" shape. I have to admit another reason I jumped on organizing this closet was the fact that we had a tornado warning last weekend and we had no where to take cover and it scared me.
Now on to the pictures! :)
Here are the before pics.
Please don't judge.
Yeah. We could not even get our big toe in there, much less try to get in there in case of a tornado.
So sad.
So......I went to work!
Pulling stuff out.
Throwing things away.
Putting things where they belong.
Putting things in the donate pile.
I wanted to show you my progress.
This is half way through.
Now, remember when I told you this closet makes an "L" shape?
This picture just above is looking straight back, then it turns to the left.
Full.of.boxes.
I kept working.
I realized a lot of these boxes were my scrapbooking things and movies.
I took the scrapbooking boxes to my craft room and I put the movies on our bookshelf.
This is what came out of my hard work...
Drum Roll Please.....
WOW!!!
I am so excited!!
Now we have plenty of room in there for when tornados come.
I love seeing side by side pics
so here is a little recap.
Before
After
Before
After
No before pic of this because I couldn't get to it for all the stuff.


The box you see there is for emergency things like a flashlight, batteries, whistle, etc.
I am going to add a case of water, pillows and blankets.
Also, I will be adding a backpack for each member of the family with emergency supplies and things to keep them occupied in the case of emergency.
This is the finished product. What you see in the picture below is
1) too many jackets, but that's my husband's fault, sorry
2) I used a bucket to house all of our gloves
3) I put our suitcases in the back for storage
4) the box next to that is my iRobot
5) and the big white box is my wedding dress
6) the items to the left are my exercise equipment for my Wii
If you will, please go
here
and vote for me.
My # at this time is 78.
The title is "The Closet Under the Stairs".
Thank you for stopping by!
JMD